The Scholarly Communications in Transition blog originates from an Austrian project about predatory publishing that is embedded as part of a larger project titled Austrian Transition to Open Access (AT2OA2), which is now in its second term. Co-funded by the Ministry of Education, Science and Research and by Austrian universities, AT2OA2 is a library-led project. Universities Austria (uniko), a non-profit association assisting the Austrian universities and fostering scholarship and research, requested that a project about predatory publishing be included in the AT2OA's second term. While it might come as a surprise to some that librarians have been entrusted with a critical topic that impacts good scientific practices and research integrity at its core, Austrian libraries have long served as leading information and services providers, addressing the areas of predatory publishing and other predatory practices, beginning with the University of Graz Library in 2016, two years before an international media campaign not only brought predatory publishing to the public's attention, but also to the attention of many universities in Germany, Austria, and Switzerland. Librarians at the University of Graz were by then recognized experts and interviewed as part of the project. There is a long-standing tradition among librarians to form communities of practice and the collaborative development of good and best practices. To share the expertise and experience acquired at the University of Graz Library as well as all the materials, content of the webpage, videos, presentations, etc, with fellow Austrian colleagues and the wider library community has been an expression of this a highly valued and cherished tradition. Various libraries at other Austrian universities soon followed suit and began to establish their own services. In this regard, the project about predatory publishing draws from extensive experience and expertise, bringing librarians together with employees at other administrative departments together, such as in the area of research management. The group is now comprised of sixteen people that are both new to – as well as seasoned in – addressing these deceptive practices.
Our point of departure is predatory publishing which, in terms of the publishing market, can be described as a fraudulent business model that purports to adhere to best practices and to uphold high quality standards in scholarly publishing while providing either substandard services or no services at all. Recent debate and literature attests to an inflationary use of the word predatory. Anything and everything that does not conform to the standards of scholarly communications and scholarly publishing at a cost can be easily referred to as being predatory. This covers a wide array of practices in the area of scholarly communications, ranging from those deemed fraudulent or deceptive in nature to undermining standards and the quality to those considered to be of low quality. The shared approach at Austrian libraries has always been to think and communicate about predatory practices in terms of a spectrum similar to the findings of a recent report published by the Inter Academy Partnership (IAP). It is a sliding scale.

What is needed first and foremost is to be more distinct when talking about predatory practices. These practices are not created equally in regard to intent or the needs they cater to, or their impact. From this perspective, predatory journals and practices are those whose providers demonstrate an intent to commit fraud, and profit from services that were never provided. At a time when the scholarly record has become a commodity, articles being the main commodity, predatory services cover the lowest end of the cheap production segment of the publishing market, much like street vendors hawking fake Gucci bags and Rolex watches, albeit with graver, direr consequences and a far greater profit margin. They quickly and cheaply churn out products but with substantially lower quality and without any guarantee of sustainably providing access to these products. Quality assurance is only feigned but non-existent, in the context of predatory journals by promises of peer review or fictional editorial boards whose members are mostly unaware that their names and reputation are being used to legitimize said journals. In this regard, predatory practices are nothing more than shams that be found in any marketplace. There is an undeniable need for the services and goods predatory practices can offer. As has been well documented, predatory publishing would seem to be a timesaver, promising faster publication by faster peer review (which essentially means no peer review). It serves as an outlet, or rather, an opportunity to publish research for authors who would otherwise struggle to get published via well-respected and established channels, but who still need to meet publishing mandates and/or open access mandates to receive funding and continue their research, not to mention those who take advantage of the lack of quality assurance to publish questionable research or even 'fake science'. Last but not least, it saves money due to significantly lower article processing charges.
This is an ever-present risk and threat, requiring information and direction in order to raise awareness and make researchers more aware of and alert them to the cost and consequences of the cost and consequences of utilizing services and offers provided through predatory practices which are growing in numbers both in regard to providers and areas of scholarly communications affected, be it proof reading, editing, publishing or convening of conferences among others. One approach in addressing predatory practices is then akin to consumer advisory practices, making consumers aware of these fraudulent services and furthering efforts to advertise for better publishing channels that are produced to higher quality standards. The core mandate of this project on predatory publishing follows this approach:
Development of a more comprehensive catalogue of measures and services to address predatory practices in support of leadership at universities and libraries
Development of an information webpage for researchers
Training of employees at universities and libraries to facilitate and support consultative services for researchers
Draft an awareness campaign
From a pragmatic standpoint, the project's objectives pertaining to predatory publishing are simple and clear: assess the status quo of already available services in Austria, collect and codify already established best practices, create a knowledge base to provide a foundation to support a shared understanding of predatory practices by all stakeholders, strengthen and expand the existing community of practice, train employees, provide information, and raise awareness. The focus is on creating preventative measures and providing more assistance in the event that a researcher unwittingly falls into the web of these deceptive practices. However, particularly from the librarianship perspective, consumer education as a primary means will only result in limited success.
Today, libraries offer more than just access to resources, materials, and assistance related to information retrieval. Librarians are key service providers in the fields of information literacy and scholarly communications. They are among the leading drivers of open access and open science. In recent decades, libraries have grown into the roles of ground breakers when, for example, negotiating transformative open access agreements, of guides across the treacherous waters of fake news and predatory publishing, of facilitators of change by supporting open access publishing platforms and open repositories, of sustainers of research integrity and best practices in scholarly communications through workshops and information provision. Library services have grown significantly, predatory publishing being one among a variety of topics libraries address. It is simply not enough to just provide services pertaining to predatory practices and would amount to not much more than an isolated effort to prevent researchers from suffering from the ill effects. It would be one service among many in the area of scholarly communications and would add to an ever-growing menu of services from which one could choose according to one's personal taste and liking. It is a demand driven approach. For there to be coherence and sustainability, not just in regard to predatory publishing but across the spectrum of library services, requires, in contrast to demand driven service provision, a deeper understanding of how to traverse scholarly communications, and finding ways that serve both students and scholars as well as the common good that science is. Way-finding then is one key purpose, but not just in the sense of establishing best practices.
Academia is in a process of change and open science is the envisioned aim. It is in a state of transition. Most of the energy in our daily efforts to support scholarly communications – be it at libraries, research services, in publishing, or other related fields – focuses on the momentum of moving forward, transitioning to open access and open science in their many facets, as well as keeping up with the digital transformation. While shock and speed may bring about solutions, these solutions ultimately lack sustainability. More often than not, it appears as if we are rushing, moving rapidly from one step to the next, ever pressing on to bring about changes in the area of open science as swiftly as possible. Change is but one aspect and it is mostly directed at the publishing market. There is, however, also a much deeper reaching stratum, namely the transformation of the scholarly ecosystem along with the culture of scholarship across all disciplines from a closed to an open system. Open systems are highly complex, characterized by a high degree of interconnectivity and interdependencies, greater susceptibility to outside influences and to the effects of disruption. This inevitably leads to greater vulnerability, as can be seen when we look at predatory practices. An increase in diversity and fragmentation increase leads to a fluctuation between divergence – at worst disjointed heterogeneity – and convergence – at worst to the point of excluding variance. The scholarly landscape is in a state of flux and transition. Focusing solely on predatory publishing without taking the evolving landscape into account would risk creating and developing services that would ultimately be as provisional and temporary as the current state of scholarship and scholarly communications is. From its inception, the project on predatory publishing has moved beyond the boundaries of predatory publishing as the subject matter and thus encompasses the broader landscape of scholarly communications in which predatory practices are but one phenomenon, albeit a phenomenon with far-reaching implications, amid disruption, change, and transformation.
The goal is to not only weed out the offshoots that fraudulently profit from the open access publishing market, but equally a matter of sustaining and cultivating open access not only as a different economic paradigm and model, but more importantly to achieve sustainability, as a culture of scholarship that fosters good scientific practices and research in new ways. Complexity requires re-imagining the services we can provide. Simple formulas such as 'if x then y' or 'do this not that' stem from a problem-solving mindset that assumes there is just one right way and that is built on binary thinking. While these can be helpful, even necessary at times, these solutions are ultimately short-lived and need to be constantly adjusted. The state of transition needs more than best practices; it needs novel, emergent and good practices in the areas of media literacy and competence, information literacy and competence, and publishing literacy and competence, as described in the Cynefin model: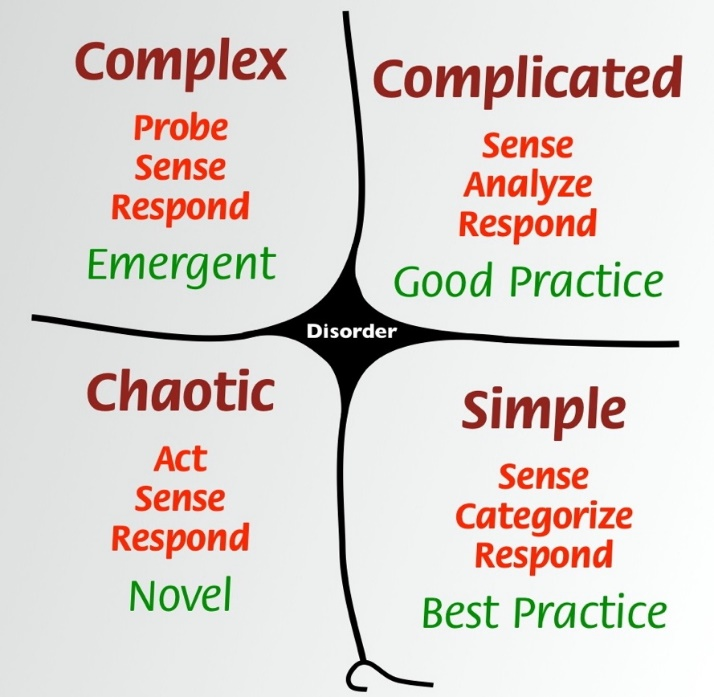 Projects often follow a linear line of logic; a project goal, the 'what' and a course is set, the 'how'. They, with corresponding milestones in place, create a trajectory that is to be followed until the project has reached its goal. As part of this project, however, we have the leisure of taking the long road, taking in the scenery, following the twists and turns along the journey, branching out here and there, studying and questioning commonly held narratives, assumptions and beliefs, and exploring emergent phenomena as well as current developments. While the general focus is on furthering the transformation toward open science, our interest also lies also in sense-making, gaining a deeper understanding of what is evolving, of the interdependencies and interconnectivities of these new open scholarly systems they are characterized by, and how it will affect and impact the transformation of these scholarly ecosystems. We cannot – and will not – provide answers as answers in an emergent and evolving landscape will always be provisional and temporary. Our goal is to offer different vantage points and perspectives, ask questions, and raise issues to be explored in order to acquire an ever-greater understanding of this new culture and ecosystem we all are creating. The blog posts will draw from a variety of sources, a wealth of experiences, our project members' expertise, the study of literature about predatory practices and related issues in scholarly communications as well as current developments, the learning process in establishing new, emergent, good, and best practices related to predatory practices and scholarly communications, the continuous exchange within our community of practice and the journeys transitioning this particular landscape. This project's great gift is that we have been given time – a period of four years – to truly immerse ourselves in these topics; we can take the time to probe deeper and not only look for answers and solutions, but also explore the questions that arise from our forays into familiar and new territory. We understand that what we know and are aware of is but a part of what there is to be known and understood. We are writing this blog with the understanding that what we perceive and discover along the way is but one perspective about highly complex matters and dilemmas for which there is no easy or one solution. The road forward can only be found by sharing various perspectives and listening to diverse voices. As such, this blog is an invitation to reflect, discuss, dialogue and share.